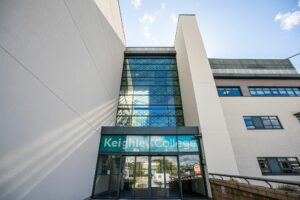 Keighley College receives funding for green skills investment
Keighley College is one of six further education providers across the region that will receive £140,000 to invest in specialist equipment to deliver electric vehicle and retrofit training, grow and embed green knowledge within the curriculum and improve links with businesses to develop and enhance their green skills.
As part of the West Yorkshire Consortium of Colleges (WYCC), the college will be involved in government plans to boost the nation's skills and make sure more people can secure good, well-paid jobs that are closer to where they live.
A great opportunity to 'level up' for sustainability
Kevin O'Hare, Principal at Keighley College, said: "We are delighted to be working with partners across the region to help our young people develop green skills and learn about sustainability.
"Our Industrial Centre of Excellence for Advanced Manufacturing & Engineering provides students with the opportunity to gain real world industry experience and this project will allow us to explore more green opportunities available in these areas.
"It is our aim to ensure that we successfully embed sustainable development goals into our curriculum and prepare our learners for futures in a greener world."
The Department for Education has announced that it will invest £2.6m in West Yorkshire's colleges through the Strategic Development Fund.
The fund was launched in 2021 to help colleges and further education providers to transform their facilities and offer high quality technical training that better meet the needs of local employers and boost job opportunities for their communities.
This would mean that local businesses have access to the home-grown talent they need for the jobs of tomorrow and more people don't need to leave their hometowns to get a good job.
Preparing a workforce for the future
Project Director of the West Yorkshire Consortium of Colleges, Joanne Patrickson said: "This funding will make a big difference to our colleges and in turn, the businesses and communities in West Yorkshire. 
"Part of the funding will be a capital investment into equipment and machinery to allow our colleges to train the workforce in electric vehicle maintenance and retrofitting buildings.
"Colleges will be employing dedicated teams to work closely with businesses in the region to understand what help they need to become more sustainable, and the WYCC The Green Skills Service to help employers access the training and resources they need to take action."
The £2.6m is contracted to be spent by 31 March 2023, but this initial investment will allow these new initiatives to establish and offer training that will prepare the workforce for a sustainable future.
Tags: funding, green skills, Keighley College, Sustainability